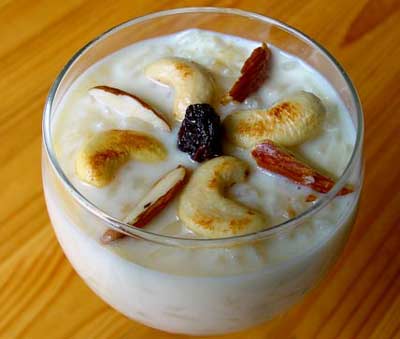 Ingredients:
½ cup rice (short grain is better)
1 litre full cream milk
¾ cup sugar
½ cup nuts and raisins (cashew nuts, pistachios, almonds)
1 tbsp ghee or butter
Method:
Soak the rice in warm water for 10 minutes.
Cook the rice in 1 cup milk and 1 cup water. (If using a pressure-cooker, pressure cook the rice for 5 minutes with ¼ cup milk and ¾ cup water in case of basmati rice, and with ½ cup milk and 1½ cup water for any other rice)Warm the remaining milk and add to the rice.Bring the milk to a gentle boil and leave it simmering over very low heat. Stir occasionally.
Let it simmer until it becomes thick, and the quantity reduces to a little more than half of the original.
Add the sugar and mix well. Let it simmer for another 10 minutes.Heat the ghee and fry the nuts and raisins on low heat until they brown slightly. Pour it over the kheer.Chill the kheer and serve cold.If the kheer is too thick after refrigerating, mix it with a little cold milk just before serving.