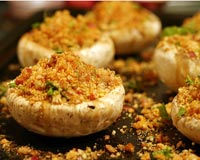 Ingredients:

450 gms Mushrooms
1 stick Butter
1/3 cup sweet Vermouth
1 cup Plain Breadcrumbs
1 small Onion
3 tbsp Parmesan Cheese
1/2 tsp Salt
Method :-
Preheat oven to 350 deg F.
Line a cookie sheet with foil and grease it with butter.
Now wash the mushrooms, wipe them and remove the stems.
Melt butter in wok.
Cook onions until it turns tender and soft.
Add chopped stems, breadcrumbs and cheese.
Fry till it turns brown lightly.
Add sweet Vermouth . Toss lightly to combine well.
Stuff it in mushroom caps.
Bake for 15 minutes and then serve.